Taurus 22°
So I came upon a Facebook message this awful person sent me before immediately blocking me. He is a notorious criminal and an even more notorious asshole called Duncan. I think he was on a celebrity rehab show. Anyway, he was in Provincetown for the first Afterglow, sharing a house with one of the performers. I managed not to meet him the entire festival because I wasn't one to party with the performers which is a good policy to maintain. On the final night John Cameron Mitchell had a show and it was surely going to sell out. I told the hangers-around the theater including close friends that they should buy tickets before they were gone. My friends did. Not only did we sell out but JCM arrived at showtime with an entourage that we also had to somehow "fit" into the room. I had limitations—fire codes imposed by the venue. We got everybody in except this asshole Duncan who threw a fit. I said: "I told you hours ago to buy tickets before we were sold out." He went around in a heightened state of Don't You Know Who I Am? No, I don't; and I don't care. He was miserably rude to me. I ignored it. But then he went around bullying young people I had volunteering as ushers. That was it. I told him to get out. He called me a "Fat AIDS Dwarf" among other thing. Then he flung a water in my face and stormed out but not before being hit with two (closed) bottles of water my hands had found and flung at him before my brain even had a chance to process. JCM was meant to introduce me onstage. I was soaking wet. He came into the lobby asking what had happened. I went on stage soaking wet. Meanwhile Stella was seated next to Taylor Mac whom she told I had had an issue with Duncan, not knowing the upshot. Oh that guy, said Taylor. He had a bunch of performers come to the West Coast for a performance and then didn't pay anybody. (I'm paraphrasing). Apparently en route leaving the theater he bent and broke the radio antennae on my antique Mercedes. He's a bad egg. He has been in trouble with the law I learned since. Three years ago, when I was in Paris, I awoke to this note on FB….at least he didn't call me "fat" this time.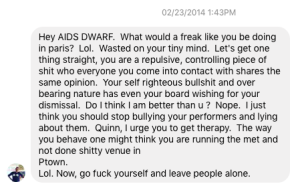 Typos happen—I don't have time or an intern to edit.*
Copyright 2017 Wheel Atelier Inc. All Rights Reserved.
Get your HAUTE ASTROLOGY 2017 Weekly Horoscope ebooks by Starsky + Cox