With a quick meditation, one might easily understand how, at Cancer 18°, the oracle—A Hen Scratching The Ground to Find Nourishment For Her Progeny—would be ruled by Pisces in a twelve-fold sequence. Tha axis signs of Virgo and Pisces both deal with ingesting and gestation, the Virgo virgin about to impregnate herself with that phallic scheaf of grain and Pisces' embryonic association with the womb-tomb, opposite facing fish signifying the two way roundabout of life and death; but also, as the figure of the womb, we see its natural filtration system, the fish pointing to nutrient and detritus, in with the former out with the latter. We are at that primal metaphorical Pisces, primordial soup-to-nuts place where the running question whether chicken or egg is perpetually being asked. Human existence is at its most basic, here, at bare bones, the ground dry and dusty, yielding but few of those germinated seeds we spoke pf yesterday. They would do, would they not? But wait, those were nutritious nuggets of certain enlightenment. I suppose we now find them scattered to the wind, whereupon we might scarcely dine. What's up with that: the chicken begins the process of assimilating life, feeding her progeny, other chicken-egg paradoxes.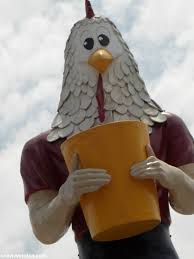 Our revelations are as germinated seeds, some of which take root only to be immediately plucked up for their nourishment. That's life. And speaking metaphorically, a seeds that you have germinated is, say, a new book or a new painting or a new piece of music or a new product or a new project or a new deal or whatever, it immediately becomes fodder for the fade away. But never fear, there is suddenly a giant chicken that will gobble up, and feed others upon such tender morsels you've brought to light. Even those you think you didn't. The cosmic farmyard is where everything ends up, nothing is wasted. All we create for public consumption is being constantly digested, again, by this damn giant chicken. Pisces is akin to it: Chicken or egg? Womb and Tomb? Alpha Omega. Simultaneaity. The moment you create something the world chicken starts scratching at it and reingesting. And like the chicken, dear reader,  you scratch and save and scratch others backs and they yours. You rifle through the debris and the discarded, elements of the Pisces 12th astrological house,  la poubelle of the Zodiac, ruling all that, and whom, is discarded and disenfranchised, cast to the elements.
This oracle shows us where everything has been left and scattered and where the process of recylcling now begins, most fitting for Pisces the last sign of the zodiac. Let us see what we find tomorrow when we turn the wheel and begin once again.
Copyright 2015 Wheel Atelier Inc. All Rights Reserved.