Leo 16° (August 7)
Day Sixteen (End scene)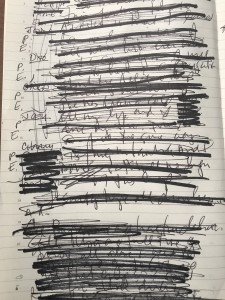 It's weird waking up in a hotel in the airport, especially in Vancouver, where you are basically at check in. I went to the pool but it was a drag due to father and little daughter taking up a lot of space. Never mind. Sauna would have taken too long to get hot. I got dressed and we grabbed coffees fro Starbucks, heard of it?; then finished up and headed out; I hate a smoked salmon sandwich from that chic plane, yesterday.
We were able to fly through inspection and plop into the lounge where lunch was just setting up. I started with soup because these places always put the soup out first. Thai Chicken. And they do the bar last. Bloody Mary's have been spoiled for me since the boat, but….Check in was a breeze. I had the beef. I watched the Shape of Water? We arrived in Toronto and it was a bit rocky, both coming and going. It killed the mood. That and the Canada Air lady who looked like the character Stevie on Schitt's Creek which is a Canadian show. Oh I give up. She was a crueller de ville. We cleared customs and it was off to Boston. Pretty quick through baggage and finding driver.
It isn't a so happy a thing when you get home but it's not your home, it can be an uncomfortable limbo. Am I making excuses. No. So what I was cranky. Sue me. I'm already thinking about the press release which I hope to have complete by, say, next Thursday. It's a guilt thing on some level. I will drive S. to NH tomorrow and somehow it might be fun.
To view the original Sabian Symbol themed 2015 Blague corresponding to this day: Flashback! The degree of the Sabian Symbol may be higher than the one listed here  as the symbols cluminate in the next degree. There are 360  degrees spread over 365 days.
 Typos happen—I don't have time or an intern to edit.*
Copyright 2018 Wheel Atelier Inc. All Rights Reserved.
Get your HAUTE ASTROLOGY 2018 Weekly Horoscope ebooks by Starsky + Cox