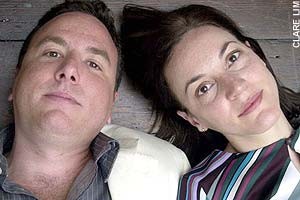 Aries 19°
(For last year's meditation on the Sabian Symbol for this degree:  click here)
On the subject of new beginnings I was thinking what I might have started already this year that constitutes a fresh experience. For one we began doing the Zodiac Club each month at Sid Gold's in New York. I have begun taking weekly singing lessons—super fun and not easy. I began producing a new series at ART/Oberon in Cambridge, MA. Let's see what else is new. We are launching our new Boston consultancy HQ. I will embark on a new course of study this year—more on that as it materializes. I've been reaching out to publishers as I want to get a new book deal. And I did enter Spring this year with an attitude of increased vigilance, I think, to stick to my guns and honor my Aries-ruled (Libran) Self.
Today is the wedding anniversary of the artists currently known as Starsky + Cox; and we are in the town near the scene of the…I mean the location of the wonderful celebration that occurred some (hand mumbling over mouth) years ago. Let's ritualize this shite: We are going to trace our steps a bit through the Public Garden and Common but veer off in a new direction that will take us to Harvard Square to where our new favorite restaurant is found. I'm going to eat whatever I want; and likely something that would make John Bartlett upset. But it's not his anniversary it's mine. John's an Aries and I learn a lot from him regarding single-mindedness. Aries are very good at that. He's definitely on a quest with his animal rights work.
So our wedding was at the restaurant called Cornucopia which was a great spot and we had a soprano and a harpist and they performed a number of songs we requested like Roxy Music's Avalon, the first line of which is: "now the party's over, i'm so tired," which probably was a bit "resigned" sounding for an embarkation into a new life as a married duo, before our names were linked by a plus sign and we spent our days mainly together. It would be a good twelve years before we worked together and we spent most of the 1990s traveling separately for work and such which was also a pretty fun period. So anniversaries are good opportunities to set some kind of new intention. And I've got some in mind for our ritual constitutional through the park in a little over an hour's time.
It makes sense that our marriage is an Aries because the two of us together really do take on the personality of a single entity I think. And it sure has been fiery—does that surprise you? Ah, how little you know us. Let's keep it that way, shall we?
"I gained nothing at all for supreme enlightenment, and for that very reason it is called supreme enlightenment"—Buddha.
Copyright 2016 Wheel Atelier Inc. All Rights Reserved.