Aries 24° (April 13)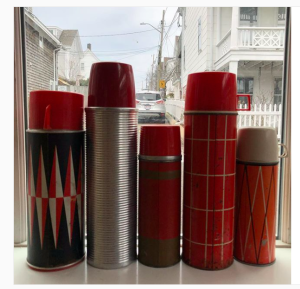 We received the first incoming sponsorship donation of the new season yesterday. In our meeting the subject was publishing and it got me thinking: All about foreign editions and ebooks and being more entrepreneurial on this score. I need to mogulize. I need to charm a scion of a stationery empire. From my Paris pulpit perhaps.
I also downloaded my Facebook information today. Put it on a thumb drive and whatever now I can quit if I want to. I'm thinking I maybe want to sell some stuff. too.
I've never really sold anything before, but I feel like I need a kind of close commercial experience from whence I also make a little dough; then again, nobody needs my crap I suppose. What I really need do is to start going through all my own shit and making room in the one file cabinet we own. Bliss would truly be….it will come back to me. First, I feel I need to spread out and bring back most things that are locked.
Then on the subject home improvement, or what is better known as the Dale List includes fixing the African ladder that we pass off as art back onto its mounting; fashioning something that can replicate one of the metal rod "corseted" fasteners under one of our Perriand Courbousier pony chairs, and to secure them all in any case; creating sliding mirror doors on the bookshelf; work: Rewiring lamps, painting the whole upstairs. All of this might happen and then again it might not. I don't know how long I'll be staying where I am. Do you wonder why I say that well it's like this: We have a lot out there and spinning and if I'm just going to show up back here on Cape for a few months a year, I don't mind the place staying on the dodgy side until I leave I really don't.
This weekend really is busy enough. For starters I have to write two more versions of the following letter to Sponsors to get them to pony up and help with my non-profit. This English journalist I know is writing a piece on sidehustles and I reached out to say that producing live performance is mine. Anyway here is that letter to be reworked for both the returning Sponsor crowd, the Missionary Sponsor crowd and the new Sponsor crowd. Let's do the Missionary version first here, shall we…
Dear Friend,
I hope this finds you well and Happy Spring! And it is in a spirit of hope and renewal that I reach out to you to become a Missionary Sponsor of the non-profit Afterglow Festival. Of course we welcome your giving at the thousand-dollar-level and above; but we created the Missionary Sponsorship for local Cape Cod businesses and entities, only—those who might more readily donate $500 to our (501 c 3) charitable arts organization. As an added incentive, you can provide us with five names we'll keep on a list in our box office, for these folks to receive half-price tickets to any and all of our festival shows.
This is year eight of the Afterglow Festival; and, I gotta say, it totally feels like we've closed a first seven-year cycle. In that time, Afterglow has preserved Provincetown's birthright as the birth place of modern American theater and performance. The festival has premiered and developed scores of solo plays and pieces that have moved off-Broadway and to famed stages around the world—musical, comedy, dance, opera, hip-hop, cabaret and other genres—by focal artists who make headlines for both their art and social narratives.
We have presented over sixty artists since 2011, many of whom have gone on to grander career success on the stage, and in film and television. It was at Afterglow that most of the population first heard of many artists, acts like John Early, Bridget Everett, Justin Vivian Bond and many others who are now more widely known. The festival has created a home in Provincetown for these vital visiting artists who feel a spiritual bond to its theatrical heritage, to the town itself, and to the people who lovingly embrace them.
Provincetown now attracts big-name acts that generate desired revenue in season. Then, suddenly, late summer, Afterglow takes stage. For seven years Afterglow has urged audiences to trust its curation in presenting superb live performance by artists they probably have never heard of. And they do—trust us, that is—as evidenced by the steady growth in annual attendance. Costs for smaller festivals like ours (including housing for performers) have increased, but with your help we remain committed to bringing tomorrow's headline acts to Provincetown every September.
 Afterglow is supported by Joe's Pub @ the Public in NYC, presenting programming that benefits our non-profit festival. And in collaboration with the American Repertory Theater, whose leadership was impressed with what we had achieved and the reputation of our programming, we launched our Glowberon series four years ago, bringing our family of artists to Boston-Cambridge audiences as well. The series has contributed to our outreach and praise in the media, from the Boston Globe, Boston Herald, PBS-WGBH and others.
Through a separate grant, we hope this year to create small tours of New England for our artists who thrill audiences with their works and expand and evolve social consciousness with their message. All of our artists are activists of sorts who proliferate positive change in our communities, from local enclaves like Provincetown, to the global one at large.
As we honor the Afterglow performers whose careers have begun to soar (putting a few on our Advisory Board!), we introduce and incubate new crops of brilliant artists (whom you've likely not yet heard of) to create, present, premier and develop new theater and performance works here in Provincetown, where we shall continue to provide an artistic home and reserve sacred stage space for them to experiment and express and explore their art and craft.
I humbly hope that you will return this year as a valued supporter of the Afterglow, and take special advantage of the Missionary Sponsorship, specifically; and that we might welcome you to our shows and introduce you to our artists and otherwise share in the joy that your valued patronage provides for the hardworking, devoted and talented artists, whether emerging or established, we are privileged to present in festival. Afterglow 2018 takes stage the week of September 10-16 at the Art House Provincetown.
————————–
To view the original Sabian Symbol themed 2015 Blague corresponding to this day: Flashback! The degree of the Sabian Symbol may be higher than the one listed here  as the symbols culminate in the next degree. There are 360  degrees spread over 365 days. 
 Typos happen—I don't have time or an intern to edit.*
Copyright 2018 Wheel Atelier Inc. All Rights Reserved.
Get your HAUTE ASTROLOGY 2018 Weekly Horoscope ebooks by Starsky + Cox