Taurus 26° (May 17)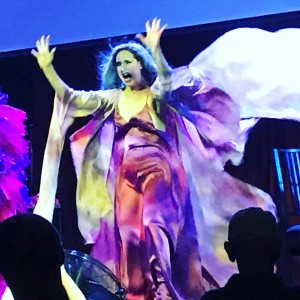 Drove up to Boston had hardly any traffic at all; and I dropped Stella on Newbury Street and made my way to Cambridge and parked in the hotel's underground lot. It was only about 10AM still so I had to wait to get into my room—though not very long. Grabbed a bit of sushi for lunch and a beer and then took a nice nap because, for whatever reason, the insomnia is back. Was pretty well refreshed and was looking forward to meeting our friends Heather and Barry for a pre-show dinner at Waypoint in Cambridge. They are also sponsors of the festival so it was a nice opportunity to take them out and see the show together. Another friend, Gabriela, met us there.
Fauxnique really is one of the most spectacular performers and creatures on the planet. She really is so ridiculously good and unique. She dances on point, she changes looks before your eyes, she dances and lipsynchs and now sings so amazingly beautifull; and on top of everything else she is such a good person and such a good friend. We went back to Waypoint and I think the waitress was a little tipsy. Anyway, it felt a little like that. She was pretty effusive. It really was oodles of fun.
At some point this will all be a memory and I won't have to worry about the quality of my content. Neither should I . All those years ago, in Nice, walking around, spending whole days on my own, having fun, going the rocky beach, wearing practically nothing, drinking beers from a man who passed by, making friendly connections. Going to dinner with a stranger, a missed connection I recall. I was too tired—remember when you were in your twenties and when you were tired you couldn't push through—and I couldn't show up for what would have been perhaps a date. Oh, well. Everything happens for a reason. That was Marc who worked at the Pas de Pot. I wonder if it's still there. Or, indeed, if he still is. So many years of disease in between.
I don't remember my Swedish friend's name who was going to write me notes and postcard which he said he'd sign with a frog drawing, his signature stamp. Nothing ever came. No he's just a no-color haircut, a vague shape in my memory. Square teeth. Flat stomach. That's all I can, or probably should, recall.
To view the original Sabian Symbol themed 2015 Blague corresponding to this day: Flashback! The degree of the Sabian Symbol may be higher than the one listed here  as the symbols culminate in the next degree. There are 360  degrees spread over 365 days.
Typos happen—I don't have time or an intern to edit.*
Copyright 2017 Wheel Atelier Inc. All Rights Reserved.
Get your HAUTE ASTROLOGY 2018 Weekly Horoscope ebooks by Starsky + Cox