An Old Owl Sits Alone On The Branch of An Old Tree is the comely oracle at Sagittarius 5°, which would be ruled by Leo in a twelve-fold sequence. The keynote is a poised and wise approach to existence based on a clear perception of unconcious factors and their operation. Who doesn't love an owl? They're cute, they have eyes in the front of their head (as we do), they make great spokesmen for selling potato chips. No seriously, there is something special about them as if the whole of the physicality is just one big head. Obviously, toy Furbies were modeled on them, and quite possibly Gremlins, of movie fame. And yet this animal, wise Athena's totem, would seem the fiercest, as well as the wisest, top of the winged nocturnal food chain, whose keen perception symoblizes an ability to see beyond what is natural or normal. They embody a superperspective. Like Leo's lion, the owl is typically depicted, in tales and even modern cartoons, as a go-to leader of the wild kingdom, but one who needn't play on the ground but rather stay aloft above the fray of animal (human) interaction. The owl, with its catl-like eyes, plays mentor and, as we saw with the previous symbol, mentorship is endemic to the sage Sagittarian experience.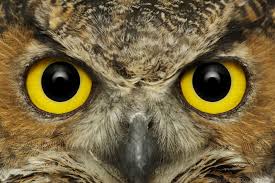 The hoot of the owl is the requisite sound effect for any nocturnal setting, itself symbolic for the landscape of the subconcious mind, opposed to that of the oft ego-driven conscious synonymous with the glaring light of day. The owl is endowed with a keen vision that transcends our abilities of perception, like a great flying cat, swooping in on (other) birds and rodents. It has a near 360° perspective, the it turns it's head, the personification of having gained a full picture. Sagittarius is about the third eye, seeing beyond duality (of its so-called opposite sign of Gemini) to gain a tertiary vision of reality. The self-name Mark Twain, a Sagittarius, means "the point between." Three points create a circle and, life being cyclical, one might that it is a circular vision that is necessary to completely perceive reality. Our friend Dane Rudhyar slaps the word translucidity on this symbol. I like it.
Copyright 2015 Wheel Atelier Inc. All Rights Reserved.