Aries 18° (April 7)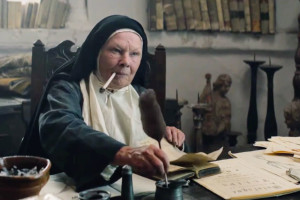 Breakfast at Tatte where some newbie at ART was dishing the staff—oh uh. Drove back to OCC (Olde Cape Cod) and just got some bear necessities. It's still so wintery and I can feel it in my bones. I sound like an old person. Oh yeah. Super excited to be seeing the Cursed Child in a couple of weeks. Watched Jessica Williams and Phoebe Robinson's show on HBO—John Early was a guest and he knocked it out of the park. He really did.
I really do want to stick around here the next two years and get some fun kitchen witch stuff going; like I really have a feeling about essential oils (done in a non cliché way) and other wise digging into the whole apothecary vein. I think I might start by adding some books online. I'd like to make some shrugs and tinctures; but also in terms of the more apothecary ideas we've been talking about. And when I say we've of course I'm referring to myselves.
I have that all too familiar sense of longing. It really is quite a good thing really. As I say is by our longing, via our need that the Universe can find us. Aries is want, Cancer is need. Both Cardinal signs i.e. putting it out there. And yet, paradoxically, that feeling is often/always/also a sign to dig in right where you are, to center oneself, and to give oneself more breadth of small experience, the things just close by with which we can occupy our time, the small ambitions that are usually muscled out be TV or masturbation.
Yeah I said it. (Sorry, that was my Chris Rock impersonation) I've watched his Netflix special a few times. He really is the best and this new piece Tamborine is quite expert. Wow. Still, Netflix has more quantity over quality of stand-up shows in their service. The rare one is great. The funniest thing on Netflix isn't meant to be: Tulip Fever is an inexplicable film that is up there with the great good-bads like Staying Alive (The Saturday Night Fever sequel). What a yucky time in mainstream American culture that was. I was already feeling Elvis Costello and Talking Heads in '77 and I was 13 for most of it.
Things are really heating up. I just don't know why it is we have such a high tolerance for this bullshit. I mean it would be bad enough if he had frauded people out of their university money and experience; or that we haven't seen tax returns; or that he makes fun of the disabled; or that he fights with the FBi; or that he is using the stage of world politics making threats to other nations as his personal means of expression; or that he paid off women including playmates and porn stars; or that he had shady business dealings; or that he is trying to fire everyone who is involved in the investigation. But there is so much more. Imagine if this were Barack or Hillary.
To view the original Sabian Symbol themed 2015 Blague corresponding to this day: Flashback! The degree of the Sabian Symbol may be higher than the one listed here  as the symbols culminate in the next degree. There are 360  degrees spread over 365 days. 
Typos happen—I don't have time or an intern to edit.*
Copyright 2017 Wheel Atelier Inc. All Rights Reserved.
Get your HAUTE ASTROLOGY 2018 Weekly Horoscope ebooks by Starsky + Cox